/
Spring Trend 15: Zweiteiler
Klar. Dieser Trend ist nicht erst seit gestern aktuell, aber die tollen und hübschen Zweiteiler kommen nun mal erst bei wärmeren Temperaturen zu ihrer voller Pracht. Deshalb können wir einfach nicht anders und müssen uns im Frühjahr mit diesen tollen Zweiteilern bestücken, denn eines steht fest: Zweiteiler sind modern wie nie und räumen das Fashionfeld von hinten auf. Ob sportlich und jugendlich, blumig und elegant oder gemustert und frech. Die Co-Ords rocken einfach! Wir haben euch die hübschesten und süßesten Teile für jeden Geschmack und jede Figur zusammengesucht und sind durchaus zufrieden mit unserer Auswahl. Ihr auch? Welchen würdet ihr tragen?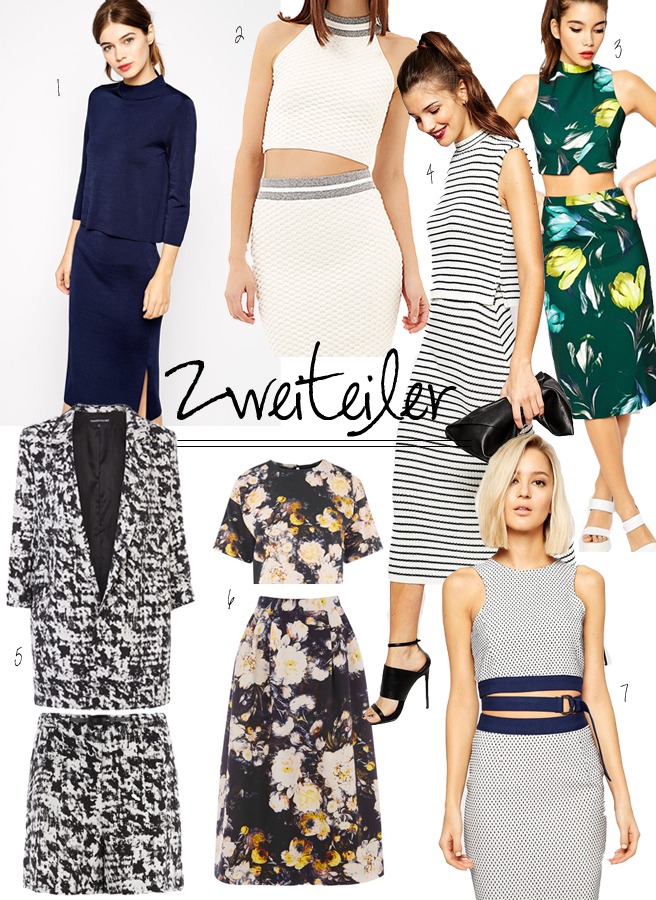 1 dunkelblauer kastiger zweiteiler Asos (Skirt & Pulli)
2 sportlicher weiß/grauer zweiteiler River Island (Skirt & Top)
3 grüner zweiteiler im tulpenmuster Asos (Skirt & Top)
4 gestrickter zweiteiler mit streifen Daisy Street (Skirt & Top)
5 strukturierter schwarz/weißer look Warehouse (shorts & blazer)
6 femininer rosen-zweiteiler Warehouse (Skirt & Top)
7 punktemuster co-ord Lavish Alice (rock & top)
EN: We're simply in love with two-piece suits! Those cute co-ords are the best for spring weather and little sunshines, so we can't live without them this spring!
Frühlingstrends 2015: hier geht's zu allen Beiträgen zum Thema!
Flared Pants II Pointed Flats II Fransen II Culottes II Off-Shoulder II Cut-Outs & Transparenz II Zweiteiler